Kelly Klosure vs Conventional Metal Building System
From the outside, a Kelly Klosure (Kelly) panelized steel building system looks and performs just like a conventional metal building system. But the advantages of a panelized building for the end-user are many. In this series, we will highlight the differences between the Kelly Klosure panelized steel building vs conventional stick-built metal buildings.
This article will focus on the ability to efficiently relocate and re-use the building!
Building requirements change, whether at a manufacturing plant, industrial plant, power plant or military site. How great would it be to have a building system that can perform like a permanent building, but still have the ability to be efficiently relocated as needs change?
You have that in the Kelly Klosure panelized building system!
Conventional stick-built metal buildings screw down the sheeting in the field after erecting the rigid frame, purlins and girts in the field. Doors and windows also field cut and placed in the field. These systems are not meant for re-location. Exterior sheets would have holes in them that the end-user would have to try to match up and then screw down again. Insulation would need to be taken off and would most likely be thrown away because it would be very difficult to ship.
The Kelly panelized approach is unique. The key is the factory assembled panel consisting of a structured steel channel/angle frame, optional factory installed rigid insulation with a flat steel liner panel and exterior steel ribbed sheathing with its watertight anti-syphon overlapping edge. Accessory items, such as personnel doors, windows and ventilation louvers are all factory installed into the structured panel. These pre-framed, pre-assembled panels are then shipped to the jobsite with connecting angles ready for assembly. The panels are shipped in re-usable storage frames for compact storage and handling.  Assembly is achieved by simply bolting the panel frames together with connecting hardware and lifting the completed panel sections into place. Lifting equipment, (forklift, cherry picker or crane depending on building size) is required for lifting the assembled wall and roof sections into place.
Disassembly of a Kelly building is achieved by unbolting the panel frames and placing them back into their storage frames. (Again, lifting equipment is required as described above). The crew never has to unscrew the sheeting and does not have to handle the insulation, windows and personnel door separately. Once back in their shipping/storage frames the building can be loaded and shipped to its next location, ready to be re-assembled.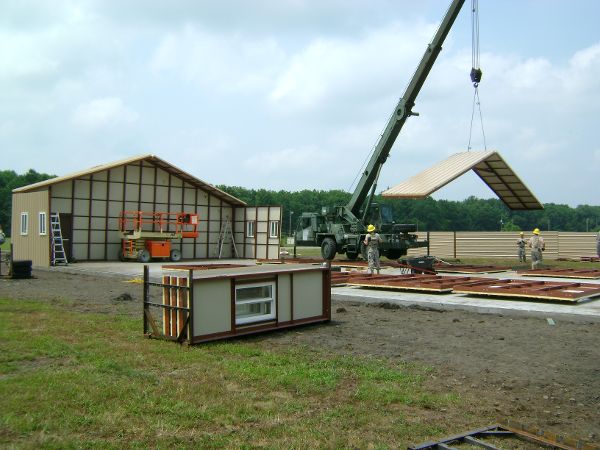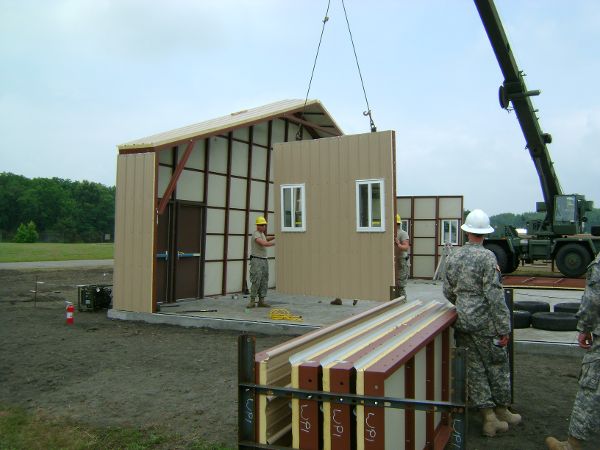 Next Up: Removable Roofs